For nearly a decade, Woodlawn preschool teacher Yvette Jones has welcomed UChicago students into her classroom at Emmett Till Academy to give her 3- and 4-year-olds the small group attention that helps them thrive. This year, Jones has continued to partner with the University's Jumpstart program to keep her preschoolers engaged — even as the COVID-19 pandemic has kept students learning remotely from home.
Jones says her young students still get excited whenever Jumpstart participants from the University log in to her virtual classroom to lead their twice-weekly literature and phonics sessions. Whether the preschoolers are watching the Jumpstart students read a story to the class over Zoom or diving into the corresponding discovery bags Jones has been dropping off at each of her students' homes, Jones says having a few more grown-ups around to help keep the children's attention in the midst of a challenging set of circumstances makes her life easier.
"Jumpstart helps the children to become a little bit more outspoken," Jones says. "Once they get used to the UChicago students coming in and talking, especially when they're talking about the stories and what not, they have a connection with them. It also helps the young students that need that extra push academically or socially and emotionally."
UChicago's Jumpstart initiative, a partner of the national nonprofit of the same name, is one of several initiatives within the Office of Civic Engagement's Neighborhood Schools Program (NSP). For 45 years, NSP has placed UChicago students in roles such as tutors, teaching assistants, administrative interns, and preschool specialists at schools and other partner sites across Chicago's South Side.
When the pandemic began, the NSP team pivoted to a virtual platform to continue connecting University students to local schools and families. Currently, NSP has nearly 300 University students providing virtual classroom support and one-on-one tutoring to approximately 500 Chicago Public Schools (CPS) students.
Maroon Tutor Match
With remote learning leaving students feeling disconnected and facing learning loss, many of NSP's student employees have spent the year participating in the Maroon Tutor Match program, which provides personalized one-on-one tutoring to CPS students at low or no cost.
Simeon Career Academy sophomore David Aldridge, who lives in the Riverdale neighborhood on the Far South Side, was struggling with math when his mom, Kenika, heard about Maroon Tutor Match. David was paired with UChicago second year Joseph Pinto in the fall and the two now work through concepts like trigonometry and graphing relationships over Zoom for an hour every Saturday.
"I like the fact that Joseph takes his time with David. They do a lot of talking and explaining so David has to say why he did what he did to get his answers," Kenika Aldridge said.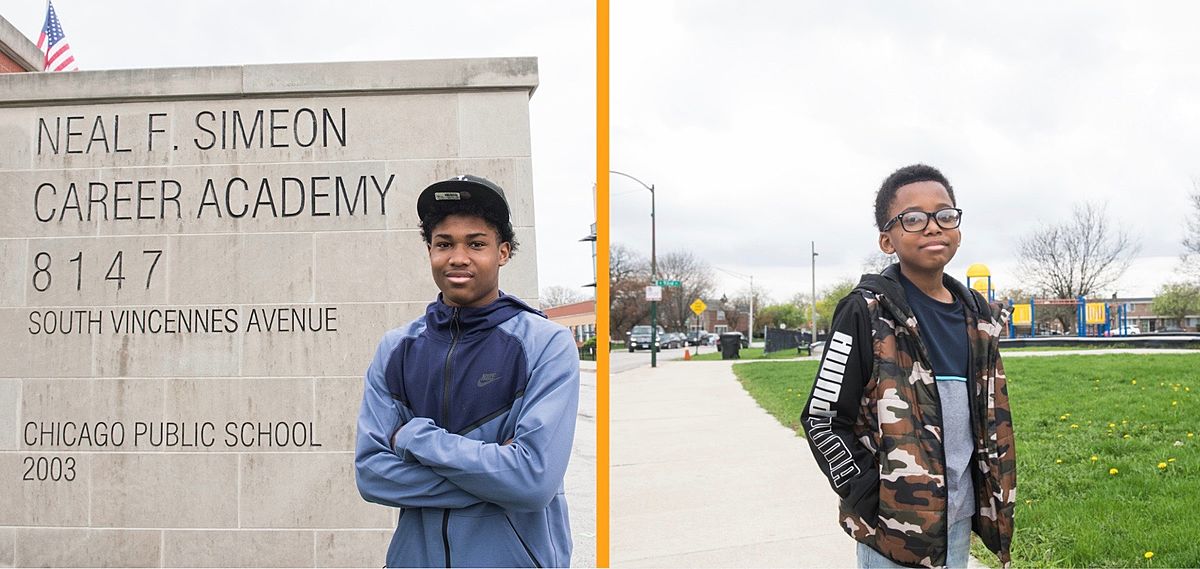 Since he started working with Pinto, David has brought his D in math up to a high C and says he better understands the material and how to approach tricky problems. Pinto works with David's younger brother, 10-year-old Dylan, as well. Kenika Aldridge says she's seen the positive impact Maroon Tutor Match has made on her younger son's confidence.
As students, teachers, and families like the Aldridges have navigated the uncharted territory of remote learning, the individualized support — and, on average, one full letter grade boost in students' focus subject — Maroon Tutor Match offers has been especially helpful. In fact, research out of UChicago's Education Lab published in March found that personalized tutoring programs similar to Maroon Tutor Match were shown to make a significant positive impact on Chicago high schoolers' test scores and course grades.
More Shifts in NSP Support
NSP participants have worked closely with partner sites in recent months to optimize remote learning however they can. Third year student Julia Liu, for instance, spent her first year in NSP reading and leading art and music projects with elementary school students in Bronzeville for nonprofit Cool Classics. This year, Liu has supported the organization remotely from her native Shanghai, helping with administrative tasks like managing the website, editing photos, organizing newsletters, and creating teaching slides. Patrick Dilworth, a third-year student who has worked with the Hyde Park Learning Resource Center for three years, has shifted to offering homework help to the elementary school and junior high students the center supports in small groups over Zoom — though he misses playing basketball with them on the center's backyard court afterward.
"[Before the pandemic] as opposed to just having three staff to deal with 20 or 25 children, we would have, on any given day, three staff and two or three students from the University that came in and supported us and you could breathe and feel the difference with them here to pick up the slack," Hyde Park Learning Resource Center Founder and Executive Director Lillie Goodwin said. "[With the pandemic and adjusting to working over Zoom], once again, Patrick and the other students come to our rescue and pick up the slack. Sometimes it might be just one child out of sorts and we're just bouncing around, trying to get through the body of work, and they can take that child and spend time with that child — it's invaluable."
The relationships the program builds, Goodwin says, are mutually beneficial. For University students from across the country and around the world, it's a way to get to know South Side schools, organizations, and residents on a deeper level.
"As a kid I had people who came and helped me be a better student and without them I wouldn't have gotten into a school like the University of Chicago. To think that I'm getting to have that same impact on Chicago students is really fulfilling," Dilworth says.
NSP director Brandi Snodgrass says that while the year has brought about unprecedented challenges, the experience has made the program even stronger. Virtual engagement with students and partners this year, for instance, has allowed the NSP to extend its local reach and has made it more convenient for many families to tap into University resources. Looking ahead, Snodgrass says she and her team are eager to finish out the year with a positive outlook and continue to build on lessons learned.
As Chicago students start returning to classrooms in the coming months and other activities resume, Snodgrass anticipates additional adjustments but says the drive to support and engage with local youth and the University's neighboring communities will remain.
"Through the support of NSP and MTM students, our UChicago Charter and CPS school partners have been able to assist students in small breakout rooms and one-on-one sessions, relieving some of our teachers' stress as well as providing students with a more intimate space to learn during a challenging year," she said. "Our NSP and MTM students' ability to serve during this time has been treasured as many of our student employees are working from across the U.S. with quite a few in other countries. Continuing to work with Chicago-based K–12 families through NSP and MTM has helped them remain connected with the city and a great sense of purpose for impacting young people's lives."