With more than 400 active University of Chicago students participating in Neighborhood Schools Program (NSP) this school year, there was much to celebrate at NSP's annual reception and awards ceremony. NSP is a program of the Office of Civic Engagement, and one of the University's longest-standing community outreach programs.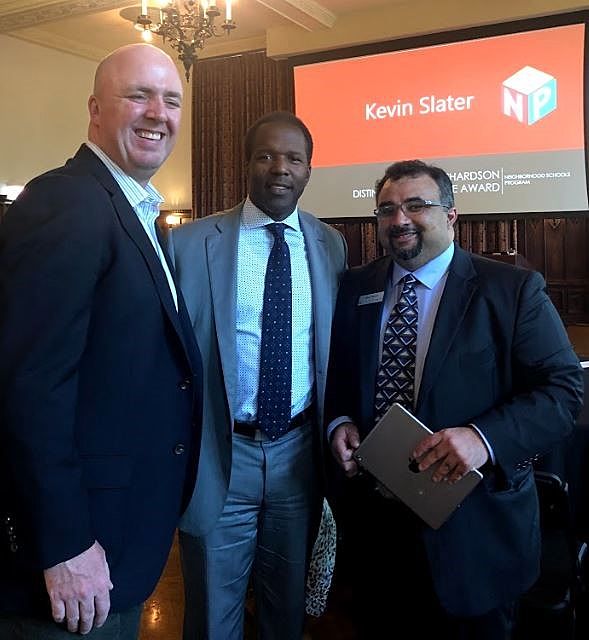 Head Men's Basketball Coach Mike McGrath, Vice President for Civic Engagement and External Affairs Derek Douglas, and Executive Director of Student Civic Engagement Shaz Rasul.
Neighborhood Schools Programs and its sub- and affiliate programs work together to serve more than 50 community partners, providing more than 25,000 hours of service. NSP honored University students and South Side school members with various awards. Pictured above are some of the recipients of the Duel Richardson Service Award. The Duel Richardson is awarded to students who have participated in NSP for the entirety of their undergraduate careers.
This year's Duel Richardson Award recipients were:
Arielle Ambra-Juarez
Hannah Given
Ijaaz Jackaria
Keelly Jones
Rebecca Lin
Kris Olson
Eleanor Richardson
Claire Sampson
Emma Scott
Kevin Slater
Nora Sullivan
Liam Torpy
Sara Warrington
Duel Richardson Awardee Parker Groves shared, "If someone were to ask me in five years what the most memorable part of my senior year of college was, I'd say NSP without hesitation; the community that this organization forges, and the love and passion that it spreads are unparalleled."
The Don York Faculty Initiative Award honors a member of the University of Chicago faculty who has made a positive impact in the field of education and, more often, in the lives of our local schools. This year's recipient was Eve L. Ewing, an assistant professor in the University of Chicago School of Social Service Administration.
Shaz Rasul with Eve L. Ewing
The Sara Spurlark Excellence in Teaching Award honors educators who have demonstrated excellence in teaching. This year's Spurlark Award recipients were:
Kate Carter (UC Woodlawn)
Kalena Crafton (Gary Comer College Prep)
The Above and Beyond Award honors University students who have exceeded expectations in their efforts to serve their South Side community.
This year's Above and Beyond Award recipients were:
Rachel Blume (Excellence in Tutoring – MTM)
Allison Flanagan (NSP)
Margaret Glazier (Excellence in Tutoring – MTM)
Isaiah Holquist (CPA)
Margaret Macpherson (NSP)
Madeline Meyers (NSP)
Olivia Morkved (NSP)
Kristi Nguyen (Excellence in Tutoring – MTM)
Anoushka Patel (CPA)
Abraham Potts (Excellence in Academic Achievement – MTM)
Anna Selbrebe (NSP)
Kristine Tjia (CPA)